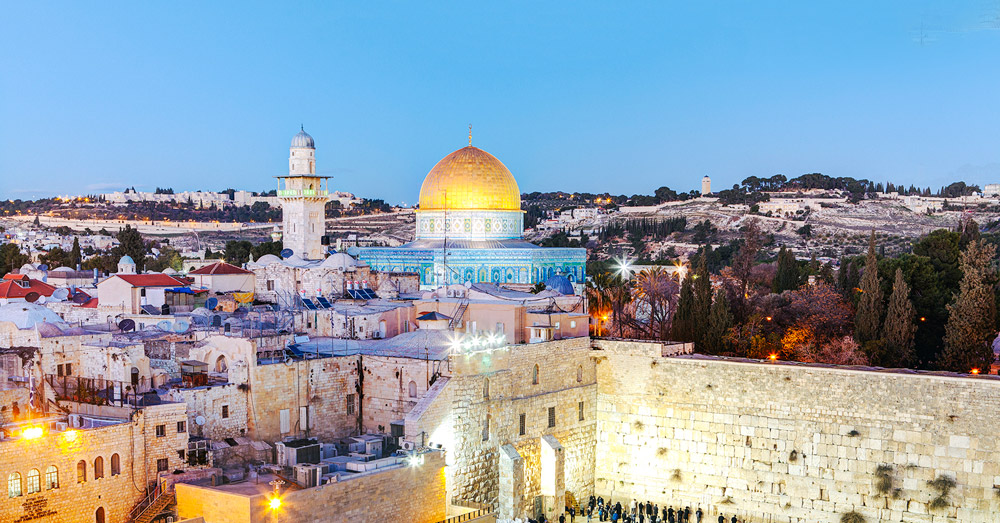 Editor's Note: The following article documents a seven-day cultural journey we embarked upon with a group of 50 leaders in the health and wellness space as part of the annual Schusterman Foundation REALITY Wellness trip—an epic journey into the heart of Israel for global changemakers on a mission to repair the world.
It's unfortunate that the only time most people hear about Israel is when there is some sort of controversy being stirred up by the media. What those stories fail to capture is the incredible beauty, strength and resilience of the people, the rich cultural history pouring from every square inch of the deeply spiritual land and the complexities of daily life in a country caught between extremes of every sort—old and new, conflict and peace, hope and despair, history and future.  Looking in from the outside it all seems so simple, but once your feet hit the ground, a different reality unfolds—a juxtaposition of all of the above and beyond that creates a cultural tapestry so intricate and varied it could take a lifetime to fully comprehend.
And we should know, since we traveled in the company of one of the great historians, professors and storytellers of our time, Michael Bauer, who is one of the leading experts in the world on Israel and Middle Eastern geopolitics. Some of his first words to us were that Israel is complex and he himself has more questions than answers.
A Fresh Perspective on The Land of Milk and Honey
With that being said, let us be clear that we are going to tell a different kind of story about Israel—one that you may not have heard. A story that diverges from traditional narratives… not about its past, not about its conflicts, but its bright future as an emerging nation floating in a sea of possibility amongst great uncertainty. Because the Israel we saw was filled with the hopes and dreams of multiple generations for a place to call home, to love, to feel at peace with, no matter what cultural group, religion or identity was being represented. And while yes, there are those who don't fit that mold and perhaps even want the opposite of that, they are very much in the minority. Like most places on earth, everyone is simply trying to get on with their lives as best they know how.
Tel Aviv
Our journey began in Tel Aviv, the rapidly evolving economic and technological capital of Israel, where you might be forgiven for thinking you had ended up in a middle-sized city somewhere in South Europe was it not for the Hebrew lettering on most of the signs. It's a fusion of modern international architectural styles with a fair bit of Bauhaus and eclecticism thrown in—just enough to make you never quite sure what to expect around the next corner. This gives the city a sort of mosaic feel—each block slightly different than the next, similar but also distinct, sometimes historic, but mostly modern given how the city didn't really exist before 1909. That's with the exception of Jaffa, of course, the ancient Arab port city (which archaeologists date back to nearly 7500 BCE) now neatly incorporated into the southern coastal bosom of Tel Aviv. If you are looking for old world charm, this is where you will find it because the rest of the city seems like it's racing toward the future with its growing urbanization and development.
perched on the edge of the crystal blue waters of the Mediterranean sea, tel aviv has a little bit of chill built right in. photo: justen tabert
These days, Tel Aviv is attracting the country's best and brightest searching for a future in the startup space, tech, finance, the arts, academia… anything really that is more aligned with the future than the past. While we were there we were treated to an art-infused organic vegan dinner with Avital Sabag, a forward-thinking dietician, chef, teacher, chinese medicine and holistic health expert, in a modern loft somewhere in the heart of the city. The morning after we wandered historic Rothschild Boulevard (where the statehood of the country was declared) and the fruit tree-lined alleyways of ultra-hip Neve Tzedek, the veritable SoHo of the city.
Michael led us over to meet Ohad Naharin of the word renowned Batsheva Dance Company and experience his ecstatic dance hybrid movement practice called Gaga at the hands of one of his top students. We were then treated to an impromptu rehearsal of his latest dance production, which was a blend of hip-hop and racy cultural commentary that seemed more appropriate for the streets of Brooklyn than the biblical story land of Israel you hear about in synagogue or church. But, that just goes to show you, that's a stereotype fostered by outdated cultural narratives and the reality of daily life here is anything but what you'd expect.The Tel Aviv we saw was a young, modern, culturally rich, first-world city on par with any North American or European capital emerging into the 21st century. It's no wonder that it has become a sort of under-the-radar mecca for twenty- and thirty-something designers, jet setters, artists, musicians and entrepreneurs over the last few years. It's sexy, hip, cool and the weather and food are pretty hard to beat.
Galilee & The Golan Heights
After a beachside lunch at the nearby, dazzlingly picturesque Michmoret Beach, we headed north for a long drive to the edge of the Golan Heights, arguably one of the most beautiful areas of the country. The drive there was nothing to sneeze at either, winding through Garden of Eden-esque scenes of rolling, rocky, tree-lined hills in full bloom after recent rains. Michael narrated the drive with fascinating bits of modern and ancient history, helping to unravel the cultural complexities of the land and its peoples. That night we had the pleasure of staying at the Mizpe Hayamim Resort—an organic farm and food wonderland overlooking the tranquil Sea of Galilee of biblical fame. That's right, the place where Jesus is said to have walked on water and performed countless other miracles. Such is the nature of Israel—modern life coexists right alongside ancient history like few other places on the planet.
Mizpe Hayamim Eco-Resort
Mizpe Hayamim served us up some of the best food we had on the trip—a truly farm-to-table experience, sourced from the grounds of the hotel and the surrounding organic farmland on which it sits. Dinner was a 5-course meal of locally inspired fusion cuisine, and breakfast didn't disappoint either—some that traveled with us said it was the best they had ever had, all delivered with a distinctly Israeli flair. We are happy to report that the organic food movement in Israel is growing and Mizpe Hayamim is poster child of what's possible in terms of holistically integrated living, not just in Israel but worldwide.
From the shores of the Galilee we headed northwest to the small village of Peki'in—a rarity in the Middle East. Peki'in is a predominantly Christian Arab and Druze town—two ethnic groups that are very much in the minority in both Israel and other Arab countries on the whole. While cultural integration is still a touchy issue in Israel, the Middle East and, in some sense, the world as a whole, Peki'in is an anomaly in that it is a place where Jews, Arabs and Druze people live in harmony and peace.
The Birthplace of Kabbalah
While there we saw two remarkable things: The first was the birthplace of Kabbalah—an unassuming entrance to a small cave where Rabbi Simeon bar Yochai is said to have divined the Zohar, a foundational text in one of the most profound systems of esoteric spirituality known to man. The second was Grandma Gamila—an inspirational and entrepreneurial Druze woman who built a $50 million per year natural soap empire in the face of overwhelming cultural oppression from humble roots in the village. We spent an hour with her, hearing her story and gleaning gems of life wisdom from an icon of women's rights and entrepreneurial success.